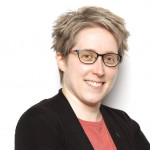 Bethany K. Warner
Vice President
About Bethany
Bethany K. Warner is the Vice President and has been with the Foundation since 2013. In addition to working directly with many donors, she manages much of the Foundation's fundraising efforts and helps to implement new strategies. She earned a Bachelor's degree in Mass Communications from Anderson University and a Master's degree in Public Affairs Reporting from the University of Illinois-Springfield and earned her Certified Fund Raising Executive certification in December 2012. She currently serves on the board of the Association of Fundraising Professionals Indiana Chapter.
Where did you receive your first Library card?
Stark County District Library, Canton, OH
What is your favorite part of working at the Library Foundation?
I love getting out to all the branches. Each is so unique and special and yet they all work for a common purpose. Libraries have always been a big part of my life and have met some pretty important needs (mostly keeping a voracious reader in books) but I've depended on libraries for school projects and for internet access.