cir·cu·late, verb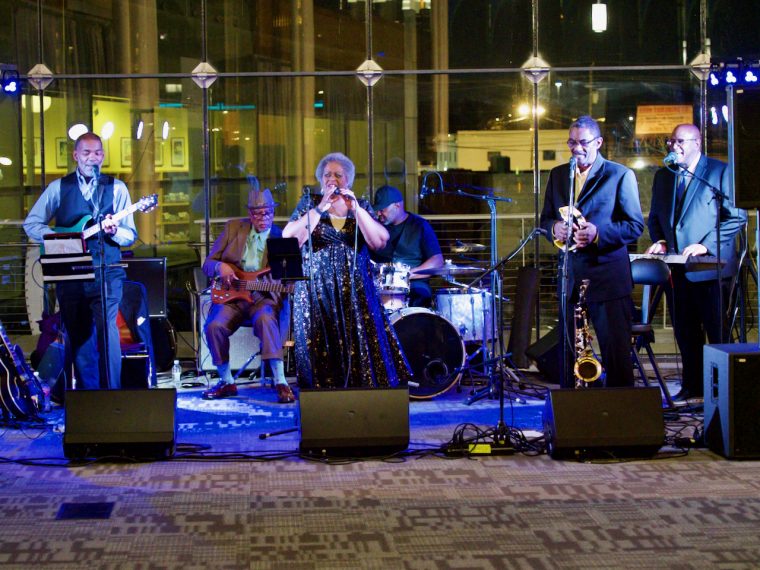 Definition – to pass from place to place such as: to flow without obstruction; to go from group to group at a social gathering; to come into the hands of readers
Experience the many meanings of Circulate: Night at the Library, the premier event of The Indianapolis Public Library Foundation as you circulate through the beautiful Central Library in Downtown Indianapolis. Join fellow lifelong learners to mingle, enjoy live music, and interact in this exclusive adults-only evening at the Library. In addition to getting to experience popular Library programs, you can make the rounds to multiple food stations and sip on literary-themed libations.
Circulate is the premiere fundraising event of The Indianapolis Public Library Foundation. Tax dollars fund the Library's primary operations including Library staffing, collection materials, and facility and technology maintenance. However, the majority of the Library's programs and services patrons know and love are possible because of support from the Library Foundation. The Library Foundation raises more than $2 million a year for Library programs and services, thanks to the generosity of individuals, companies, and foundations.
This year, it's time to a be a kid again and let your imagination run wild! Central Library will play host to some of the most popular children's programs and activities we offer. Grab a drink and make your way through the library to find the following activities:
Express Yourself with Amauunet Ashe: Amauunet will guide guests in a poetry writing workshop, utilizing music, word games and visual imagery to entertain and inspire you to create your own poetic expressions.
Story Power with Kahlil the Djeli: Kahil is a storyteller with a traditional West African culture focus, employing call and response, drums, and basic rhythms. Stop by and immerse yourself in his storytelling world.
Chair Yoga & Mindfulness with Tharp-Perrin Gindhart: Whether standing or sitting, you can learn how to regulate emotions & develop inner focus through yoga, deep breathing, sound, silence, and soft music. Visit this area when you need a moment to feel present.
Go Fishin' with Clint: While swimming through Central Library, make sure you catch Clint Kowalik - C.F.O. (Chief Fishing Officer) of Go Fishin with Clint. Learn how to assemble a fishing pole, tie a fishing knot, and handle a fish. While you're there, doodle a fish and cast for Backyard Bass.
Animal Show & Tell with Hedgehog Hannah: A crowd favorite, Hedgehog Hannah will be at Circulate again this year! See what cute, cuddly, maybe scaly creatures are hanging out in the Library!
Protocol the Band: We are excited to have the band, Protocol, providing us with the music for tonight! Fun fact - one of the band members, Bruce, drives the Library's bookmobile!
Stay tuned for more fun to be announced!
Event Information
Saturday, March 16, 2024
6:30 p.m. - 10:00 p.m.

Central Library: 40 East St. Clair Street, Indianapolis, IN
Ticket Information
The event is for adults 18+. Each ticket includes activities & programs, two drinks, appetizers, silent auction and live music.
Tickets on sale now! Purchase early bird discounted tickets now through January 31. Starting February 1, the ticket price is $100.

Buy Tickets
Thank you to our 2024 Presenting Sponsor!