cir·cu·late, verb
Definition – to pass from place to place such as: to flow without obstruction; to go from group to group at a social gathering; to come into the hands of readers
Experience the many meanings of Circulate: Night at the Library, the premier event of The Indianapolis Public Library Foundation as you circulate through the beautiful Central Library in Downtown Indianapolis. Gather around to see live animals, sit in a circle for comedic story times, huddle up for art programs, and more!
Now is your chance to explore historic Central Library after hours. Join fellow lifelong learners to mingle, enjoy live music, and interact in this exclusive adults-only evening at the Library. In addition to getting to experience popular Library programs, you can make the rounds to multiple food stations and sip on literary-themed libations.
Escape Rooms - Sexton East Reading Room
Led by IndyPL staff, two escape rooms are our featured entertainment for the evening. It will take approximately 15-20 minutes to complete the escape. Bring your problem solving skills and make it out before time runs out on you! Escape games are an engaging way for kids to use their critical thinking, communication, creativity and collaboration skills in a real-world experience. They provide a safe space for kids to experience challenges, reframe failure, and face unknows which are all vital to developing a growth-mindset.
Guided Sound Meditation - Center for Black Literature & Culture in the R.B. Annis West Reading Room
Presented by Barnes & Thornburg LLP
Led by Nasreen Khan, learn about the importance of self-examination by using meditation. After a brief introduction on the topic, join other participants for a guided mediation using sound bowls. Take some time to escape the clutter of your mind during this workshop! This activity is led by a Teaching Artist with Arts for Learning.
Make and Take Artwork- Center for Black Literature & Culture in the R.B. Annis West Reading Room
What is your favorite escape? Entry into a fantasy world with dragons, wizards and witches? Exploring a new planet? Traveling through time? Becoming a spy to save the world? Under the guidance of Harrison Center Artist Beth Guipe Hall, use collage elements and ephemera to create your own escape themed artwork to take home with you!
Drawing 2 Conclusions - Sixth Floor
Presented by Indianapolis Airport Authority
Led by artist Gary Gee, this workshop will teach participants how to use art for visualization and critical thinking. Scribbling can unlock deductive reasoning, critical thinking and spatial awareness. May we suggesting visiting this activity to warm up your brain before heading to an escape room? This activity is led by a Teaching Artist with Arts for Learning.
A Quiet Space to Escape the Event - Indianapolis Special Collections Room, Sixth Floor
Presented by Michaela Graham and Scott Brody
Do you need a moment to yourself? Would you like to take in the stunning nighttime city view in a quiet space? Head up to the sixth floor and escape the hustle and bustle of Circulate for a few minutes.
Hedgehog Hannah (Animal Show) - Green Screen Room in the Learning Curve
Here's the one thing we don't want to escape tonight! See what cute, cuddly, maybe scaly creatures are hanging out in the Library tonight! Programs like these introduce youth to animals they may otherwise not encounter and teach basic biology principles.

Rubber Ducky Duck Pull - Learning Curve
Presented by Rubber Ducky Press
Help a rubber ducky escape! If you pull a winning duck, take a home a book as a prize!
Circulate is the premiere fundraising event of The Indianapolis Public Library Foundation. Tax dollars fund the Library's primary operations including Library staffing, collection materials, and facility and technology maintenance. However, the majority of the Library's programs and services patrons know and love are possible because of support from the Library Foundation. The Library Foundation raises more than $2 million a year for Library programs and services, thanks to the generosity of individuals, companies, and foundations.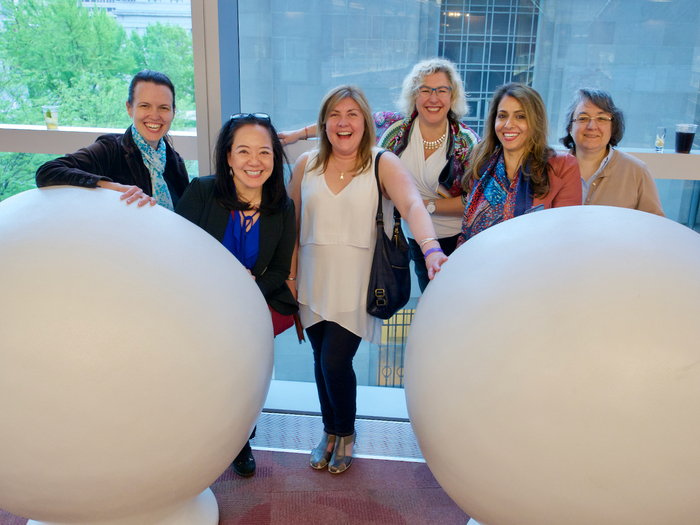 Event Information
Saturday, March 4, 2023
6:30 p.m. - 10:00 p.m.

40 East St. Clair Street, Indianapolis, IN
Ticket Information
The event is for adults 18+. Each ticket includes activities & programs, two drinks, appetizers, silent auction and live music.
Find more info here: circulate23.givesmart.com
Ticket sales have ended. If you are interested in attending please contact Emily at eschnitker@indyplfoundation.org. Thank you!
Event info
Sponsor Information
For information about sponsorship opportunities and benefits or to reserve your space as a sponsor in 2023, please contact Roberta Jaggers, President, at rjaggers@indyplfoundation.org or at (317) 275-4863.
2023 Silver Sponsors
Michaela Graham and Scott Brody