WTTS Rock To Read concerts fund children's reading programs at the Library
Posted on November 04, 2019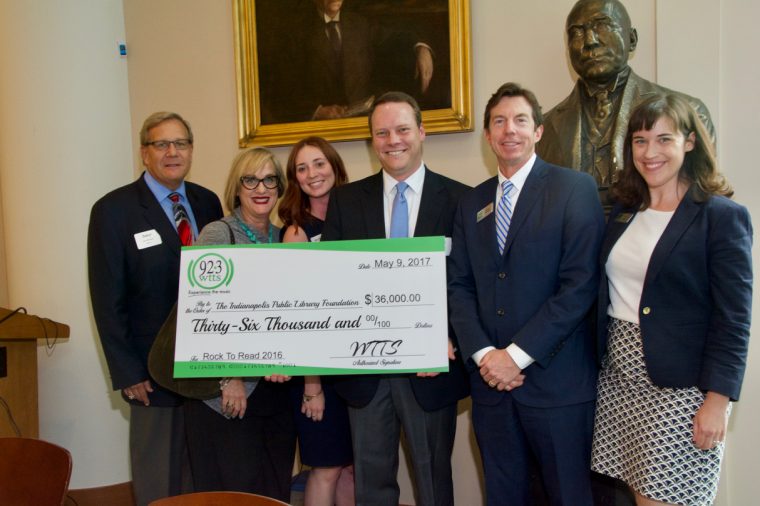 By Brad Holtz, Vice President/General Manager, WTTS/WGCL Radio, ST Digital
WTTS Rock To Read benefit concerts date back to 2006, when plans were coming together for a new Central Library. Our first shows were held at The Vogue, with artists like Los Lonely Boys, Susan Tedeschi, and Collective Soul. As the series started to gather steam and funds were directed towards the Library's children's reading programs, concerts moved into the Murat Theatre in 2010. We also expanded the series to include multiple shows each year. Produced in conjunction with our longtime partners at Live Nation, Rock To Read shows have developed a strong reputation for delivering top tier musical talent—from impactful artists today, to the true legends of rock—while raising funds and awareness for summer reading programs in Indianapolis. Just a few of the names who have played WTTS Rock To Read concerts? Chris Isaak, Ben Folds, Beck, John Hiatt, Ryan Adams, Jackson Browne, Wilco, Ray Lamontagne, Brandi Carlile, Nathaniel Rateliff & The Night Sweats, The Avett Brothers, The Head & The Heart, Amos Lee, Counting Crows, Lyle Lovett, Guster, Spoon, Snow Patrol, Death Cab For Cutie and more. Thanks to these artists and the generosity of the incredible WTTS audience, more than $200,000 has been raised for children's reading programs at the Library.
WTTS Rock To Read has been proudly supported by Jockamo Upper Crust Pizza for nearly a decade. Their whole team has been incredibly supportive of our efforts. 2019 sponsors also include Karma Records and the Indiana State Teachers Association.
Along the way, I developed a great relationship with Roberta Jaggers and Danny Dean at The Foundation. It was always a treat to come and present the check for Rock To Read proceeds at the annual Board meeting in May. When an opportunity presented itself to join the Board of Directors in 2017, I didn't hesitate for a moment. In my role as a director, I'm able to expand upon the work of Rock To Read and contribute in new and additional ways. I enjoy the collaborative atmosphere of our Board, and telling the Foundation's great story and the ways it is helping enrich the lives of so many in Indianapolis.
"The power of music" might sound like a cliché but in this case, it's certainly true. Great music has made a real difference for summer reading programs, and laid a personal pathway for me to the Foundation. My thanks to Roberta and the entire team at the Foundation for their strong leadership and bright vision for all that can be accomplished.