Camp Read S'more launches June 6
Posted on May 19, 2022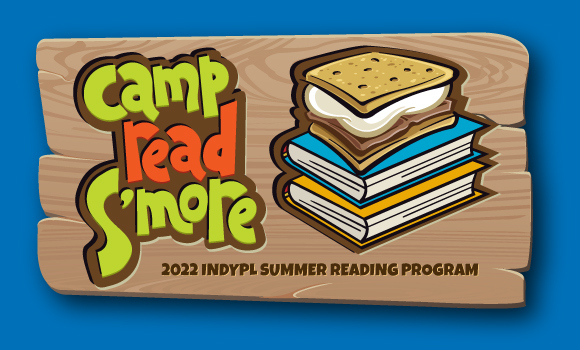 What is 103 years old and still going strong thanks to you? The Indianapolis Public Library's Summer Reading Program, which is supported by donors to The
Indianapolis Public Library Foundation (see list below). Starting June 6 and lasting to July 30, the Library is offering free workshops, programs and great books for all ages. The theme this year is Camp Read S'more! Children and teens receive prizes for reading one, five, 10, 15 and 20 hours.
Research shows reading just 15 minutes daily helps combat the "summer slide," or the decline in academic skills that can occur when children are out of school for extended periods. The Library holds the Summer Reading Program at Central Library, 23 branches and with partners at 100 youth-serving agencies through its bookmobile service.
Find more about the Camp Read S'more at indypl.org/programs-events/srp.
Major Sponsors
Indianapolis Indians
Lilly Endowment Inc.
Nina Mason Pulliam Charitable Trust
Mary Frances Rubly & Jerry Hummer
G. Marlyne Sexton
Supporting Sponsors
92.3 WTTS
Barnes & Thornburg LLP
Citizens Energy Group
CollegeChoice CD 529 Savings Plan
Corteva
Dr. John N. Eble
Indianapolis Colts
Dr. Sherri Lauver and Dr. Kevin Biglan
Office of the Lawrence Township Trustee Steve Talley
OneAmerica®
Pacers Foundation
The Ft. Ben Branch Design & Construction Companies: RATIO - The Skillman Corporation - Davis & Associates, Inc.