Ways to Give: Ceramic book tiles make memories permanent
Posted on August 29, 2022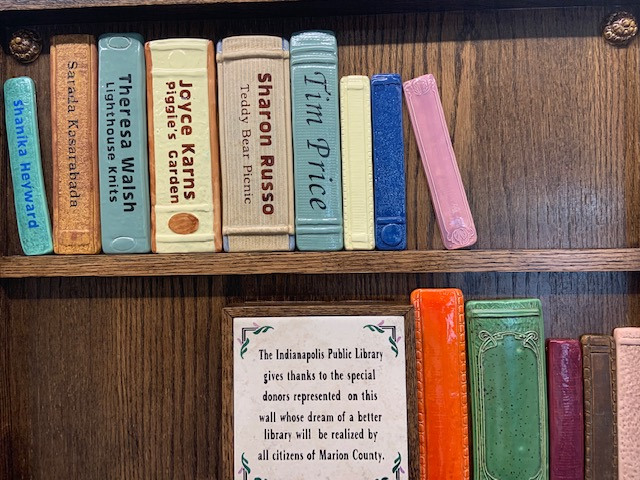 Donors are able to commemorate their legacy or that of a loved one at most library branches through a custom-made, ceramic book tile. Designed to look like the spine of a book, book tiles are permanently installed in a wooden bookcase designed to recognize supporters of the library.
Your tile can be inscribed with your name, your business or the name of a loved one who inspired you. You can join together with a group to order a tile for your family, civic group, book club or more! All proceeds from the book tile sales help the Library Foundation support programs at your branch and around the IndyPL system.
A 1-inch tile's price is $500; a 2-inch tile is $1,000 and a 3-inch tile is $2,500. Book tiles can be ordered for the following locations: Beech Grove, Central Library, College Avenue, Decatur, Eagle, East Thirty-Eighth Street, East Washington, Fort Ben (available when branch opens), Franklin Road, Glendale, Haughville, Irvington, Lawrence, Martindale-Brightwood, Michigan Road, Nora, Pike, Southport, Warren, Wayne and West Perry. To order a book tile, you can make a gift online at www.indyplfoundation.org/give. You can also email foundation@indyplfoundation.org or call 317-275-4700 and ask for a donation form.
The Library Foundation occasionally runs book tile sales at specific branches. Right now, tiles at East Thirty-Eighth Street Branch are on a 90% off sale until September 19, 2022. Emilie Lynn, an IndyPL librarian, said, "Ever since my husband Joe died, I've been wanting to get a book tile. So many important things happened when I was at East Thirty-Eighth Street. At the risk of sounding corny, it really was our second home."